Susan has a mixed art and academic background. She gained an MA in Fine Art from the Surrey Institute of Art and Design, but spent some years away from practice to research Aegean Art and Archaeology, for which she was awarded her PhD (University College London).
Susan retains an ongoing fascination with animals as subjects, not least because of the versatility they present as varying shapes with diverse surface patterns, textures and colours; like landscapes whose contours can be meticulously followed.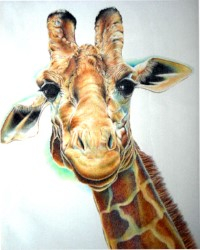 She has travelled extensively abroad and throughout the UK to make first hand studies. She also makes drawings of objects and places that have a particular personal meaning for her.

Menier Gallery, London 2nd - 14th October

Sands Gallery, Paignton, Devon 1st - 30th November.
Meet the Artist Dr Susan Poole SGFA Winner - artistpapers.co.uk
Read the full article HERE

Dr Susan Poole UKCPS SGFA